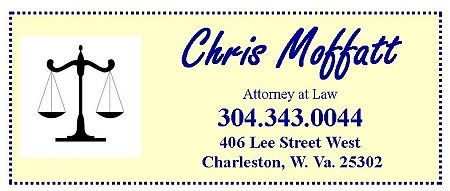 4-14-2016
CURRENT NEWS & MORE
April 27 a Lola Butcher Given, 92, see OBITUARY page
April 27 a When the people elect a person to serve, the Constitution makes it very difficult to remove them from office. No matter how big a dummy they are, once elected by the people, they're there until the next election
April 27 a Federal and State Code provide a process for removal but it's rare when an official is tossed.
April 27 a Here in Clayberry, we've now got a guy wanting to do just that. His focus of attention is none other than, Prosecutor Jim Samples.
April 27 a We've got the details in the current edition of County Clay's near award winning paper of choice, The Communicator.


April 26 p Cletis O. Fugate, 57, of Bickmore, see OBITUARY page
April 26 p Willard Eugene Jones, 69, of Clay, see OBITUARY page
April 25 p Harland (Doc) Walls, 83, of Widen, see OBITUARY page
April 25 p County Commission meets Wed morning at 10am.
April 25 p The Communicator made it out the door this afternoon in rare form. This time around there's a bunch of color pictures.
April 25 p Lead story provides the details on why Stump Morton wound up in the slammer last weekend.
April 25 p There's also a big screw up in the reporting. Principals in the article are the Green Shirt Badge, Steven King who's with King Wrecker Service, Stump, and a Louis Koch.
April 25 p Somewhere in the typing, the ace cub reporter switched the Steven King name with Louis Koch name and wound up printing Steven Koch was with Stump Morton during the caper
April 25 p Steven Koch is NOT mentioned in the Badge report.
April 25 p Louis Koch is.
April 25 p Even with that blunder on our part, there's a bunch of interesting reading in the latest edition of Clay County's newspaper of choice.
April 25 p Did we mention that Greater Clay Executive Director Rhonda McDonald is resigning from that posiiton? Did you know Greater Clay case manager Cheryl White is stepping away from that job? How about, Greater Clay is moving from its Spread Park office base?
April 25 p All of that and more is in that Communicator.
April 25 p Tuesday afternoon the Lady Panthers short gamed Valley Fayette 9 to 0 during the first game of the double header. That makes their season with 14 wins and 9 losses
April 25 p The Panthers will be action Wed evening beginning at 5pm over at Clay County Park.
April 25 p 101.7FM will be delay broadcasting the game beginning around 9pm if all goes well. The online listening link can be found here.
April 25 p Do you know why the Panther baseball games are not done in real time? Out at Clay County Park there is no land line to use and cell phone service in the press box comes and goes. It's a quirk of the place.


April 24 4pm We don't know if the 5pm Lady Panther game has been canceled due to rain or not. BUT, 101.7Fm will not sportscasting that match up
April 24 4pm Instead, WYAP will attempt to broadcast Tuesday's Lady Panther v Valley Fayette game , 5pm, Schoonover Bradley Field.
April 24 p No School Board meeting tonight
April 24 p Suppose to be a CHS Softball game this afternoon beginning at 5pm. Heavy rain this morning but Bradley Field may be dry enough for action.
April 24 p 101.7FM will sportscast the affair if it happens. To listen online, try this link.
April 24 p FYI We got to see retired School Boardster O Gene King last Friday at a Senior Citizen Olympic held down in So Charleston.
April 24 p Gene had his wits about him, was jovial, and appears to be having darn good retirement years.
April 24 p Communicator comes out Tuesday afternoon. Deadline for submission is tonight around 5pm. Email over your stuff right away
APril 24 p One of the more interesting items were publishing this edition is a call out for those willing, wanting, to sign a petition to remove our Porsecutor from office.
April 24 p If that doesn't get you to cough up 80 cents for a paper, nothing will!


April 23 a N. Keith King, 91, of Lizemores, see OBITUARY page


April 21 late p The county wide BOIL WATER ORDER has been lifted.


April 21a The Lake Sampson Fishin Derby is one of the well done youth events in the county. Rain, snow, or shine, dress appropriately and get the kids out of the house Saturday. See EVENTS page
April 21 a Also on Saturday is the once a year haul off the junk day. There's no excuse, none, for you to have a junked up yard, barn, porch nor side road. It's not very often that the govt comes up with a good program and this one happens tomorrow. See Communicator for details.
April 21 a Don't forget, tonight, the Big Otter Community Center is offering a fun spot for good food, dance and music. See ADVISORY page for more
April 21 a What would happen if some dummy decided Clayberry was worth hosing down with some chemical like anthrax? Local emergency leaders decided to set up a mock drill yesterday to try out their contingency plans.
April 21 a Over at the High School, govt workers from all stripes of life was on the payroll with booths set up, forms at the ready. Outside, law enforcement was on hand as well as the State Road and an a Clay Ambulance.
April 21 a Such drills are expensive to put on.
April 21 a While everybody was set to test their plans at the temporary demonstration site, the biggest problem was, there were nearly zero volunteers to act as guinea pigs for the place. Organizers even offered a $50 prize to a lucky volunteer.
April 21 a 15 minutes into the POD, there were zero guinea pigs to be seen. Zip.
April 21 a There was another problem too
April 21 a With no one in the CHS hallways except paid workers, management decided, no one should get a glimpse of the place. No members of the press were allowed in.
April 21 a That no media allowed attitude came after free ads were placed in area news outlets seeking people to show up.
April 21 a It was top secret. We know why. With all those tax dollars wasted there, who would want evidence of the affair?
April 21 a During a real emergency, wouldn't leadership want the public to be familiar with the layout of an emergency facility? Not so in Clayberry.
April 21 a Being first hand familiar with white powder showing up at our door step, would Clayonians really drive to the High School or would they more likely, zoom down to CAMC for real treatment?
April 21 a On second thought, Crap! If it was anthrax, we would be squirtin' blood out our ears and nose within 60 minutes!
April 21 a During the 2016 CDC blow up , some doo doo mailed a white powder laced envelope to the Communicator office. After opening the thang, law enforcement including US Postal Inspectors were called.
April 21 a The USPS Badges came into the office without gloves and breathing filters. We asked, why don't you have protective gear on? Reply: If it was anthrax, you would be foaming at the mouth and already dead!
April 21 a So much for POD centers.
April2 1 a Maybe a temporary morgue plan would be more appropriate.
April 21 a Just another head scratcher in the County of Little.


April 20 a the BOIL WA WA ORDER that went in force yesterday is extended thru today. Don't drink the stuff for a while longer
April 20 a After a couple tries at getting this right and being dead wrong, we THINK, the Greater Clay group will meet tonight in their Spread Park office beginning around 6pm. Their website does not list meeting date, time or agenda.
April 20 a Also tonight is the Clay Roane PSD monthly meeting down at the Procious WAWA Plant. The 6:30 meeting agenda is on our ADVISORY page.
April 20 a Many talking heads are reporting on a rogue lab techy in Boston falsifying drug evidence which resulted in many bogus convictions. Thousands of cases have now been tossed.
April 20 a Not that long ago, W Va had the same scandal when Green Shirt chemist, Fred Zain was a key figure in sending many to prison. Zain's actions ruined the life of many wrongfully convicted people. Follow up civil cases cost this state millions in settlements.
April 20 a Such uncoverings are the strongest reason for taking the death penalty off the books forever.
April 20 a If you haven't looked, those baby eagles are really growing.
April 20 a If you watch for a few minutes, it's interesting to watch the two take a dump. The barely walking eaglets back up to the edge of the nest, often flapping their tiny wings to keep balance, and blow the white stuff four feet overboard.
April 20 a This morning they're feasting on fresh trout.
April 20 a Must be issues with Frontier this last 24 hours. DSL is very slow. Sorry for the short post.
April 20 a Sunshine today and 75 degrees. Enjoy if you can.


April 19 late p Arthur E. "Mule Skinner" Smith, 79, of Harrison, see OBITUARY page
April 19 late p Terry D. Traub Sr., 64, of Maysel, see OBITUARY page
April 19 late p Some weeks it feels like we just post bad news.
April 19 late p This is another one of those weeks
April 19 p Forgot something this morning. IF you are a Roane Countian and a customer of Clay Roane PSD, the BOIL WATER ORDER applies to you as well.
April 19 p We've mentioned in The Communicator a couple times the story of a one time Clayberry school teacher, Crystal Samples. Ms Samples is a very sharp person with a great personality. She has been the court system for at least 6 years after getting busted on drug charges , 37 felonies comes to mind.
April 19 p After whizing hot at least three times, on Monday, Crystal Samples was sent back to prison looking at another five year sentence. Very sad situation. Crystal's life and future is now a wash out.
April 19 a Don't forget, if you live in Clayberry, today and tomorrow, BOIL YOUR WA WA first. See ADVISORY page now.
April 19 a With a 50 / 50 shot at dry weather today, what's your plans?
April 19 a A good plan would be getting ready for the once a year, County wide Recycling Day event held over at the Pierson Log Yard this cmoning Saturday. See EVENTS page for details on what is acceptable
Apirl 19 a Look around the yard, sheds, porch, barn and we bet you'll find a truck load over left over winter junk.
April 19 a If you like politics and are interested in a complete break down of 2016 Election results state by state, here's the site for you.
April 19 a For those just curious about West Virginia's break down, click right here.
April 19 a Despite Record Collections, 52,062,499 Filers Paid No Income Taxes in 2014
April 19 a With schools closed down and turkey humters in the woods stalking a big gobbler, we're having a very quiet week in Clayberry.
April 19 a Phillip Burnside from Ivydale manages to get in law troubles ona pretty regular basis. His most recent escape involved stealing three rolls of toilet paper from a neighbor's home.
April 19 a This time around it was a new fangled security camera that reported to the home owner in real time.
April 19 a The ace cub reporter has learned a thing or two in the last couple day about breaking wind after eating several messes of fried ramps. Related to the olfactory sense, here's one on conditional response.
April 18 a Oscar Mack Hamrick, 87, of Triplett Ridge, see OBITUARY page
April 18 a D. Paul Friend of Akron, see OBITUARY page
April 18 a Helen Lee Orndorff, 78, a resident of Duck, W.Va. , see OBITUARY page
April 18 a Shelba Lynn Boggs, see OBITUARY page
April 18 a John D. Stone, 94, see OBITUARY page
April 18 a Yesterday's Panther v Brighton baseball game was canceled due to rain
April 18 a The county wide (nearly) BOIL WATER ORDER begins Wed am. See ADVISORY page for details
April 18 a Clay Roane PSD convenes their monthly Board meeting Thursday, 6:30 pm, at the Procious WAWA Plant. See ADVISORY page for agenda
April 18 a According to the U.S. Bureau of Labor, employment in the coal industry has declined from 259,000 jobs in 1979 to around 53,000 in 2016.
April 18 a Here's a pretty good write up on the evil ways of Donny J. The White House is desperate to keep secret all that's destructive to the nation
April 18 a We are in prime Ramp season. Along the byways are enterprising folks set up to sell bundled of the Spring tonic. For us lard butts, that's the easiest way to enjoy a couple messes of the natural cure all.
April 18 a After 35 years of life with wifey and a like amount of Ramp aroma during those years, it all came to a head Sunday evening, night and early am.
April 18 a For the ace cub reporter, Monday morning, beside him in bed was no one.
April 18 a After a few scratches , digs, and a trip to the bathroom, there was the sweetie under a quilt on the couch.
April 18 a That part about letting sleeping giants lay is true this time around.
April 18 a Thinking maybe she was sick, quietly came, Honey are you sick?
April 18 a All H broke loose when her peepers came alive.
April 18 a "You STUNK up the bed all night!!!... When you breathed on me, IT ALMOST MADE ME SICK!!! ...
April 18 a Not understanding the gravity of the moment, Mel Gibson grinned. Bad move.
April 18 a Arising from the couch and with her finger pointing, I am washing the sheets, quilt, pillow cases and Lysoling the mattress! .. If YOU think you're going to sleep in MY bed tonight, you're dead WRONG! ... YOU ARE DISGUSTING!!
April 18 a Not falling off the turnip truck last week, the five messes of cleaned ramps are going in the freezer for later consumption, when the effervescence has faded. Maybe in Jan would be good.


April 17 a This Monday morning is gloomy looking with showers coming here and there
April 17 a If though school if out, the Panthers will take on Brighton New York in baseball action at 11am, IF the rain holds off, out of Clay County Park stadium.
April 17 a IF the game happens, 1017.7FM wil rebroadcast the match up beginning at 7pm tonight
April 17 a Here's the online link for internet listeners.


April 14 a Rug Rats were suppose to make up a snow day today instead of the first day of Easter break.
April 14 a Thru the magic of deep thinking, kids get out at noon today for the start of the 5 1/2 day break.
April 14 a They're all yours parents!
April 14 a Quietly, the Business Development Authority called for an emergency meeting last night at 7pm.
April 14 a The agenda calls for one thing.
april 14 a What really happened was, the BDA received their 75% of FEMA money , around 470,000+, and needed a place to deposit it or at least a place for safe keeping.
April 14 a At issue is whether the BDA will accept the $$$ under the current FEMA contract terms.


April 13 a Last night the Lady Panthers held an early lead and went on to beat Nicholas County in softball action. The final, 6 for Clay, Nicholas, 5
April 13 a Great ball game too
April 13 a Our Govt has a way of screwing up programs. What at first sounds great, after a second look, things aren't as they sounded. For instance, what sounds like a bunch of $$$, well, more often than not, instead of the $$ going to the needy participants, much is consumed by management, consultants, and other overhead expenses.
April 13 a Operated by several different groups over the years, we've had a WorkForce WV program in the county a long time. In the current configuration, and as presented yesterday during the CCC meeting, the program is set up for 16 to 24 year olds, offers job skill training (that's the stuff they should have learned in high school); and about 36 weeks of paid employment.
April 13 a Sounds pretty good at first blush.
April 13 a By peeling back the layers and based on the last ten years of experience, many times, instead of being on the job for 36 weeks, the youthful workers wind up in days of classes. For the "employeer", instead of getting a job done, the kids are off somewhere else.
April 13 a If you're interested in the WorkForce WV program, call the County Clerk's office for contact info.


April 12 a County Commission meets this morning beginning around 10am. See what makes Clayberry so different. Attend a public meeting.


April 11 p The Communicator is now on newstands across a five county region of West Virginia
April 11 p Lead story covers 2 more males that slipped thru the criminal court cracks
April 11 p Need some work? Check out the JOBS page for the latest opportunities
April 11 p The Lady Panthers went down to Roane County, 9 to 8


April 11 a After typing most of the night away, looks like the next edition of knowledge will be on the news stands across the region later this afternoon.
April 11 a After two weeks of rain and cold weather, if the sunshine holds, the Lady Panthers will be on Schoonover / Bradley Field this afternoon at 5pm ish for great softball action.
April 11 a Come out and support the home team.
April 11 a 101.7FM will be broadcasting the match up with TG Griffith's pregame show going live around 4:55
April 11 a Here's the online listening link.
April 11 a Go Lady Panthers!


April 10 a Elda Campbell is Dave Derby's Mother in law.
April 10 a On Tuesday Ms Campbell turns 100 years young.
April 10 a Happy Birthday!!
April 10 a For us taxpayers, it gets pretty confusing down at the Legislature.
April 10 a One day it sounds like something will become law followed by an about face on the following day
April 10 a Delegate Shirely Love gets us up to speed with his latest Update column now posted on the ADVISORY page.


April 9 p The Town of Clay Boil Water Advisory has been lifted
April 9 p School Board meets Monday night, 6pm, in the Pentagon. Here's the link to their web portal.
April 9 p That knob on the side of your toaster, does the knob adjust minutes or crunchiness. Here's the answer.
April 9 p Is it really costing taxpayers $500,000 per day to guard Melanie?
April 9 p And finally , how dangerous is it to take a bath or shower in a thunder storm?


April 7 p Delegate Shirley Love's Legislative Update column is now posted on the ADVISORY page
April 7 p No one has told us any different so, the BOIL WATER ORDER continues for the Town of Clay, Two Run, Maysel, and Hartland. For your own safety, boil it first
April 7 p Food give away Saturday. See ADVISORY page
April 7 p House and Senate dealings are pretty ho hum until a Clayonian goes ballistic on the floor of the W Va Senate. Take a look see for yourself.
April 7 p First we bomb rebel forces and last night we bombed government forces? Who's side are we on? And, the bigger question, what's the plan and where is this going?
April 7 p For those that haven't heard, that airport, the one we missiled with $300 M in munitions, the runaways weren't hurt and Syria had planes flying today.
April 7 p Does anybody else think that's odd, maybe too odd to believe?
April 7 p Could all that have been orchestrated to divert from the ongoing failures of Mr T??
April 7 p For Putin to be successful and get his way in the USA, he has to give a little for his buddies in the Oval House.


April 6 p It didn't tale long for the Trumpster to start hitting the button
April 6 p Tonight's 59 missiles added up to about $300 million in tax dollars
April 6 p No one has said so far but the question is, what was the purpose of the American attack? Regime change?
April 6 p Without a Congressional authorization or vote, is our missile attack legal?
April 6 p Back in 2013, before going after Assad, Obama asked Congress for an authorization.
April 6 p He never got the OK for war
April 6 p Just as he tweets off the cuff, was tonight's attack premature? Will Russia be launching soon?
April 6 p It's a very scary time in the nation tonight.
April 6 p Prayers are in order.


April 6 9:45am BOIL WATER ORDER in place for the Town of Clay, Two Run. Maysel,and Hartland. Boil it first!!
April 6 p Got a correction from the morning post.
April 6 p The Greater Clay meeting is NOT tonight, the start time is NOT 6:30, and Rhonda is still with the non profit.
April 6 p The meeting is set for next Thursday, April 13th with a 6pm start time. Ms McDonald remains a part of the group and serves as the Excutive Director.
April 6 p Other than that, the morning post was perfect.


April 6 a Mary Eloise Pierson, age 102, see OBITUARY page
April 6 a Over a month ago, a huge rock slide closed Elkhurst Road near the Hartland bridge.
April 6 a From the State Road email bag:Co.Rt. 5, Elkhurst Road, will be closed to thru traffic starting April 11. No traffic will be able to go through job site.
April 6 a Tonight around 6:30 the Greater Clay Long Term Recovery Group will convene a public meeting. If you're trying to find the meeting agenda on their website, forget it, nothing posted.
April 6 a Director Rhonda McDonald resigned her perch to take a paying job in Charleston. Replacing McDonald is Larry Cole.


April 5 a Suppose to get up to 78 today with bright sunshine. For us procrastinators, it's time to get out the weedeater.
April 5 a For us trashy folks, before getting out the lawnmower, it's time to gather and pile up the winter debris and get yourself ready for the once a year, trash removal day coming later this month. See EVENTS page.
April 5 a Got any tax refund dollars left? Not going to believe this but, over on the CLASSFIED page is a S-10 4x4 pick em up truck for $900. And, it runs!
April 5 a There's still Federal $$ available for studies, engineering reports and such. The funds to actually do a project are much harder to lay your hands on.
April 5 a Last night during the Eco/Dev meeting of the CAEZ, Director Big Lup said the effort to grow an ATV trail thru Clay, Webster, Fayette, and Nicholas Counties continues. Currently, cooperating landowners are being located.
April 5 a Tourism, the only hope we have of growing our Clayberry economy
April 5 a During that same meeting, Boardster Linda Rhodes reported that Shentel Communications plans to erect a new cell tower up on the hill behind the Town of Clay.
April 5 a The Town of Clay has been a sputtering mess for decades. One of their big boat anchors has been the Log Factory. The facility has drained Town $$$ for going on 20 years.
April 5 a Back when Council was OKing the place, the engineer told em, the Log Factory was designed for 600 customers. Here's the problem, the town only has half that number of customers.
april 5 a Paying for the over capacity is very costly.
April 5 a Last night during the Town Council meeting, Mayor Hubbard apprised all, he had received permission from the DEP to shut half the plant down.
April 5 a That notion has been discussed during the entire life of the plant but no one ever followed up to get permission
April 5 a Hubbard did and according to the clerk, the power bill has already gone down..
April 5 a In the real world, it's common for vehicle logs and fuel bills to be kept for everything with four wheels. Get this, the Town has never done that.
April 5 a Now they are compliments a vote by the current administration.
April 5 a We hardly ever say it but, progress continues in the Town of Clay.
April 4 p Wanita Gray, 78, of Clay, see OBITUARY page


April 4 a Little Donald is celebrating 75 days in office today. The country is still waiting for him to full fill any of his campaign promises. Welcome to disarray in America.
April 4 a For our clickers from around the nation, this county has but one municipality. The town, Clay, has around 500 occupants and 38 businesses.
April 4 a Town Council meets today at 5:30. With Mayor Hubbard making a strong effort to operate the town in an above board operation, Council meetings are pretty interesting
April 4 a For over 20 years, Central Appalachia Empowerment Zone (CAEZ) held public Board meetings once a month. Around 99% of the time, the Boardsters from the five county service area showed up like clock work and conducted business. As 2016 was ending, with Boardsters much older now, some passing away, and others too sick to attend, changes were made.
April 4 a For 2017, Board meeting were reduced to every other month.
April 4 The CAEZ meets this evening, in the Courthouse, with the first meeting starting at 4pm followed by the full Board at 6pm.
April 4 a Public meetings are a great place to witness what's right and wrong with Clayberry.
April 4 a In the way of records, one lad has more Clayberry criminal misdemeanor charges than anyone else. Coming in at over 60 of em for mostly assault and battery, Mikey Lanham is a danger to society.
April 4 a His latest transgression was for beating the H out of Houston Bullard at the Exxon station in Maysel a couple years back. For that fight, Iron Mike earned his first Felony and over a year in the slammer.
April 4 a Mike Lanham is now a free man again. Be on notice clickers.
April 4 a Let's talk lower than a snake's belly....
April 4 a Sometime on Sunday, thugs broke into a Maysel church food pantry and swiped goods.
April 4 On Sunday, there were of course people coming and going from the church.
April 4 a Had the criminals knocked on the door and asked for food, there's no doubt, they would have received bags of vittles. Instead, they chose to break into the facility
April 4 a How pitiful!
April 4 a Badges were on the scene Sunday. Word came that the bad guys were also seen at the closed down car wash in Teaberry Turn, also in Maysel.
April 4 a Two men and one woman had been camping at the top of Dobbinespeck Hill for three days prior to the criminal activity. Staying under a plastic tarp strung between trees, the trio is now gone. Left behind in the hasty departure is half a truck load of trash along with clothing items.
April 4 a So far, no arrests.
April 4 a also over the weekend, thugs stole a Jeep parked in the school bus parking lot below Schoonover Bradley Field. Additionally swiped were bus radios.
April 4 a As of Monday at 3:30, Sheriff Triplett knew of no arrests in that caper.
April 4 a If you see a nice looking white, hard top, CJ Jeep, loaded down with druggies, you might want to call the Sheriff's office right away.


April 3 a It's not often that a Clayonians hits the top mark in a good way. It's happened now
April 3 a Loita Butcher from the Northern end of the county was named Director of W Va Dept of Corrections Friday evening. Hip Hip Hooray!
April 3 a Delegate Shirley Love's Legislative Update column from Friday is now posted on the ADVISORY page as is notice of an upcoming food giveaway.
April 3 a We're one step closer to joining the 28 other states and WAshington DC that have legalized in way or another, the nectar of the Gods, pot. The next vote comes today.
April 3 a And finally for this Monday morning, today, our House of Idiots are planning to vote on messing with state taxes.
April 3 a There might be a reason why West Virginians purchase huge quantities of pain killers.
April 3 a New study shows us as the 50th out of 55 least healthy people in the nation.
April 3 a Time to stop this morning posting stuff and grab a HoHo and a Ding Dong for breakfast.


April 2 p Most of are consumed watching the circus with Little Donald as ringmaster.
April 2 p While that farce is going on, we're overlooking the disaster now in progress otherwise known as the Legislature in Progress.
April 2 p For those interested in keeping up with the Republicrat attempts to set the state back 100 years, here's a great link, LegiScanWV.
April 2 p The Senate aims to take $79 million from the West Virginia school system budget.
April 2 p That's a big chunk of change. For County Clay, that amounts to around $230,000 in cutbacks. Such an amount would certainly mean lay offs and cutback in the educational process like we've never seen.
April 2 p To solve the budget woe, the Republicrat Legislature recommends that local School Boardsters just raise Levy rates.
April 2 p Sounds pretty simple up front.
April 2 p But, at least our local Boardsters know, if they raise the Levy by another $230,000, not a one of em would have a job come next election cycle.
April 2 p Number one is always keeping your elected job but, without the rescheduled $$$, the school system as we know it would end.
April 2 p Senate Bill 609 has already passed the Senate. If that 609 becomes law, what's it going to be, raise taxes and loose your Boardster job or let the system go to H in a hand basket?
April 2 p Pretty good week for public meetings coming our way.
April 2 p We'll do our best to keep you posted.


April 1 a Welcome to April. The rain continues this morning.
April 1 a Don't forget to check out the EVENTS page for stuff to do today.
April 1 a For those ready to plant cabbage, Sizemore Greenhouse has it
April 1 a As for healthy people in Clayberry, we've got more than our share of obesity, disease and lazy-itus. As a matter of fact, health wise, we're near the bottom of the pack.
April 1 a It's been 100 days of pure H for Little Donald. His approval ratings even among his own fan base, well, they've tanked.
April 1 a Fortunately, for thinking people anyway, that means fewer of his poorly thought out changes will be put on hold.
April 1 a While speaking of Russia's ways, who said, "It is a riddle wrapped in a mystery inside an enigma,"
April 1 a That Churchill back in the 30's and his word ring true even today.
April 1 a Here's a few memory joggers from CNN that you need to know.
April 1 a The only question remaining, how long before Donny J resigns or is impeached from office.
April 1 a Many guess, by the end of Summer. Adding to that speculation, many suggest VP Pence's entangled with Russia will send him packing as well.
April 1 a That leaves Paul Ryan in the Prez slot .
April 1 a Gulp!


March 31p Big time rain drenched the county most of today. About as soon as tonight's baseball game was canceled, the sun came out and blue skies returned.
March 31 p Lady Panthers' play Saturday at noon over at Schoonover Bradley Field.


March 31 a Didn't go so well for the Panthers last night as the Nicholas County team left us in the dirt, 10 to our 5
March 31 a It's raining right now.
March 31 a If the weather cooperates, Webster County comes to Clay County Park this evening at 5:30 for a match up with the Panthers. Bring your umbrella just in case but come out and support the home team
March 31 a For those too far away to attend, tonight around 9pm WYAP-LP will air the taped sportscast beginning around 9pm. The online link makes it easy to listen from afar.
March 31 a Today is the 100th day in office for Little Donald. There has never been a more unprepared guy holding the top office. Never have so many scandals and now possible jailable offenses, have come in such a short period of time
March 31 a Speaking of jail time...
March 31 a When you get arrested, you're suppose to get to trial or at least a hearing right away. There's rules in place to insure such actions.
March 31 a As mentioned a week ago on this site and with details on the front page of the latest Communicator, here in Clayberry, three males have been sitting in Central Regional Jail for a year or longer without benefit of court action.
March 31 a $48.25 is the cost for incarcerating a person in W Va.
March 31 a Henry Earl Stutler was jailed April 11th 2016 while waiting for a pretrial required mental evaluation. To get an evaluation, it's normal for the Judge to order the Prosecutor to write up the paperwork and start the process. To date, his jail tab adds up to over $16,000.
March 31 a Why so long? Someone forgot to draw up the request for the test.
March 31 a James Clifton Rogers has been in the slammer since Oct 23 , 2015. That 17 months or around $24,000 on the taxpayer tab
March 31 a Finally Scott DeWayne Barker was incarcerated on Feb 5 2016 on an indictment over DUI 3rd and such. Barker was lost in the shuffle when his attorney, Kevin Duffy lost his lawyer license. Up to three days ago, Mr Barker cost the county over $20,000.
March 31 a When you add it all up, that over $60,000 that could have better been spent here in the Land of Little.
March 31a Money is one thing but there's more.
March 31 a For Barker, Stutler, and Rogers, they've lost a year or so of life while waiting for the failed criminal justice system to do their job.
March 31 a Commissioner Fran King brought forward these three shortcomings after a County Commission meeting. This site and Communicator newspaper brought them into the spotlight
March 31 a On Tuesday, Judge Jack Alsop brought the three bad guys to Court.
March 31 a For Rogers and Barker, after exceeding the three terms of Court requirement for a fair trial, they were released. They are free men.
March 31 a It is possible that new charges COULD be brought. Although that's possible, it ain't the norm.
March 31 a Mr Robe ordered the Prosecutor's office to do their job and write up the order to get Henry a mental evaluation. While waiting, he's back in jail on our dime
March 31 a For those three, it's been a cluster with the finger pointing at the Prosecutor's office and Judges for less than stellar performance.
March 31 a We asked Circuit Clerk Mike Asbury if the Judge went ape shirt mad, turned blue around the gills, threw rocks or otherwise dressed down the Prosecutor's office. Asbury said none of those things happened.
March 31 a Your tax dollars at work.


March 30 p Ooooooops. While the official schedule reads that the Panther ballgame this afternoon will be at Nicholas, it ain't. Today's 5pm game will be held at Clay County Park and Stadium.
March 30 a The High School is having a devil of a time getting baseball and softball games in this year. The Panthers are trying again this afternoon over in Nicholas County beginning at 5pm.
March 30 a Here's the link page to listen online.
March 30 a Tuesday was arraignment day for the new class of indictees.
March 30 a Billie Murphy and Kristi McCune (forgery, uttering, conspiracy) were no shows Tuesday and are now in deep doodoo with the Judge. Bench warrants were issued for both
March 30 a In every case, when you go before the Court, the Judge orders a whiz test.
March 30 a On Tuesday, Patrick Morris (not the one over at the power company) was unable to pee. To jail he did go.
March 30 a At our expense, Morris (grand larceny, burglary, DUI 3rd) was brought back on Wed for a second try at providing around 2 tablespoons of the yeller liquid. Darn Darn Darn. Still unable to go.
March 30 a A cotton swab test in the mouth was administered and low and behold, who would have believed it, he tested hot for drugs. Mr Morris will spend his days in the slammer.
March 30 a Kelli Eagle did whiz but did so hot enough to burn the bottom out of the glass beaker.
March 30 a Everybody that did go before Judge Jack Alsop Tuesday plead not guilty, they didn't do all those bad things.
March 30 a Might as well turn em loose right now and save a bunch of $$$
March 30 a , In the way of an update, on Wed., Robert Patterson (burglary we think, Nov 2016 grand jury) entered a no contest plea for his transgressions. No contest is equal to a guilty plea
March 30 a Also on Wed, Jonathan Stephenson entered his plea as did Jockwin Schoonover.
March 30 a For those three, sentencing is set for May 15th.
March 30 a A bunch of us have several email addresses to check daily. The go to program to handle automatic checks of several email addresses has been outlook express. OE has been the bestest software out here for years.
March 30 a When they came out with Windows 7, 8, and 10, the OE software no longer worked.
March 30 a For those that like the functionality of OE, there is a substitute that works on the newer 64 bit operating systems.
March 30 a For a look see and secure download of the replacement, called "oeclassic", walk over there.


March 29 later p Dennis W. Triplett, 91, see OBITUARY page
March 29 p Phillip C Triplett, see OBITUARY page
March 29 p While ranting about the dumb bunnies down in the Legislature, we forgot to mention, the Senate has given the green light to increase gasoline taxes by 33%, from 20.5 cents per gallon to 30.5 cents per gallon.
March 29 a The Communicator made it out the door Tuesday afternoon. For this edition, if you want to know the details on the new class of indictees, what the Town is up to, and insight into Clay Roane PSD's vote to raise wawa rates, it's all there for you.
March 29 a Weather is not cooperating with the CHS Baseball and Softball programs. Next stab at getting a game in comes Thursday afternoon at 5pm
March 29 a By the way, rain is in the forecast for Thursday
March 29 a Happily we report that this is the last day for the Legislature to bring out more rotten laws for consideration this year.
March 29 a For us old pot heads, a medical weed bill has made it over another Senate hurdle and is poised for a full Senate vote. Great!
March 29a If you like the idea of increasing water pollution in the State, Yelp, the Senate is doing that as well.
March 29 a In this state, when you have an agency that reports on our dismal educational system and poor test results, what do you do?
March 29 a The correct answer is get rid of the agency. Problem solved.
March 29 a God bless those elected leaders. The've really got it together .


March 28 p Tonight's CHS PAnther game has been canceled.
March 28 a The Communicator should be on news stands across the region mid afternoon
March 28 a If the weather cooperates, around 5pm today, the CHS Panthers will take on Roane County out at Clay County Park in Maysel
March 28 a WYAP will air the contest around 9pm on a tape delay basis so the kids can hear their own efforts
March 28 a To listen, just click away right here.
March 27th 3pm Tonight's Lady Panther ball game has been canceled.
March 27 2pm: Tonight's Lady Panther softball game has been delayed with a new 6pm start time. Field conditions and a light rain are the problem.
March 27 p Over on the CLASSIFIED page was a listing for a couple english bull dog puppies for free. Feeling that the listing was a scam, we removed it. Thanks for the alert from our clickers.
March 27 p Thinking of ramps? See EVENTS page now


March 27 a For the last four days, the Ace Cub Reporter has been screwing off. That explains the lack of postings. Now getting ready to spend the night typing the Communicator, still not much in the way of an online post.
March 27 a Lady Panther Softball this afternoon beginning at 5pm over at Schoonover Bradley Field. All that's if the weather cooperates. WYAP's broadcast schedule is now posted onour ADVISORY page.
March 27 a For those afar, you can listen online by clicking this link. After you connect, bookmark the link that works for you and your electronic device.
March 27 a Paper comes out Tuesday afternoon. Deadline for your submissions is this afternoon at 5pm. Email your classifieds, chatter, notices, etc right away
March 27 a Someone asked, what happens to all the old CURRENT NEWS posts. Nothing is thrown away. Just click on the PAST NEWS button for everything online in the last many years.
March 27 a How about that Little Donald. Our Russian Prez seems to have everything under control.
March 27 a From his own lips, "On day one of the Trump Administration, we will ask Congress to immediately deliver a full repeal of Obamacare," Over and over Donny J told us, getting rid of ObamaCare will be priority one
March 27 a The Don now says, he's done with TrumpCare and ready to move on to the next promise, tax reform. Of course that means, he's ready to give breaks to the wealthiest and break it off in the average guy on the sreeet.
March 27 a Hasn't gone so well for his Muslim ban nor his appointments to cabinet posts.
March 27 a Donny told us, getting that Ban was important for the security of the nation. After two failed attempts, all of a sudden, we don't hear a word. What happened to that urgent need?
March 27 a Maybe the only hope we have is for all the Russian connections to be made public and the Trumpster walks away.
March 27 a Keep your fingers crossed America.